Official opening of TCES Group's latest school by Professor Lord Winston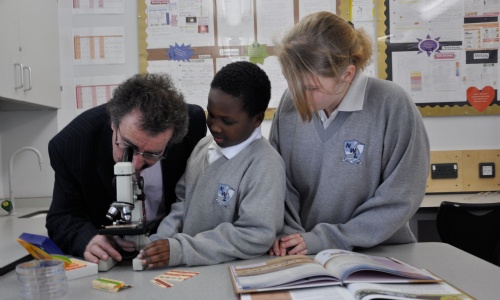 TCES Group is delighted to announce that Professor Lord Winston will officially open Essex Fresh Start Witham on Friday 4 December 2015.
In operation since September, TCES Group's newest school is a lovely old red-brick building, which has been a school since 1902. Sited in a quiet part of Witham, surrounded by open space and beautiful trees, TCES Group's ambitious remodelling project has breathed new life into a site that has been empty since 2012. The school will educate up to 25 pupils between 7-18 years over the coming academic year.
All TCES Group schools specialise in providing day-school education for pupils whose Social, Emotional or Mental Health (SEMH) needs or Autism Spectrum Condition (ASC) have made attending mainstream schools difficult. Pupils often have previously undiagnosed learning needs, and Speech, Language and Communication Needs (SLCN) are not uncommon.
TCES Group's belief, that every pupil should have the chance to succeed in full-time group education or be supported in working towards it, means that each school must firstly meet each pupil's most basic physiological, safety and belonging needs. Essex Fresh Start (EFS) Witham offers a community-based school experience, which breaks down multiple barriers to learning by promoting the educational, social and health needs of its pupils, where highly-skilled and focused staff teams are able to support each pupil's growth towards independent learning in groups.
EFS operates three schools across Essex. Head Teacher, Cheryl Rutter, says: "At EFS we want every pupil to enjoy their time with us. Only when pupils enjoy their school will they make real progress. We offer a structured routine in a safe, inspiring environment which encourages mutual respect and tolerance. We also nurture each child's ambitions as we aim to provide a 'passport' for life by accrediting our pupils with as many certificates as possible to help them to make positive choices for their future careers.
"In addition to academic and vocational experiences, EFS' Therapy Team offers counselling, art and drama therapy and our Speech and Language and Occupational Therapists work directly with pupils. More specialist assessment from TCES Group's Consultant Clinical Psychologist and Consultant Paediatrician are available to pupils who are struggling to engage with learning for reasons that are not clear."
Thomas Keaney, TCES Group's CEO and Schools' Proprietor, adds: "We know how important this 'Team Around the Child' is in ensuring the best outcomes for our pupils and it was not by accident that EFS was judged, 'Good' with 'Outstanding standards' (by Ofsted in September 2014).
"Six months after leaving at the end of Y11, 80% of EFS pupils are still engaged in work, education or training; a figure of which most schools would be proud; but this is particularly remarkable given the profile and starting points of some of our children and young people."
During the official launch event pupils will invite visitors (including parents and carers, local dignitaries, Local Authority representatives and other stakeholders) into science, cookery, drama, art and music classrooms. They will also stage two performances in the wonderful, vaulted school hall.