Our Six Models of Excellence
Our goal is to support every child to reach their full potential and, by addressing the barriers that challenge them, enable them to engage in learning. We support them on their journey from Isolation to Independence using our Six Models of Excellence.
TCES undertakes a unique and evidence-based approach to education across our schools and services, a combination of Integrated, Systemic, Milieu therapy (ISMT), and our six models, detailed below.
Great Minds therapeutic education
Learning can only happen when pupils feel safe enough to take risks and open themselves up to challenges.
For pupils with adverse childhood experiences, or those whose neurological development is atypical, this can be difficult.
Neuroscience has taught us that to support our pupils to move from the 'survival' part of their brain to the 'thinking' part of their brain, a therapeutic approach is best.
We use a variety of therapeutic methods to encourage emotional and social growth, and create a joy for learning.
This is underpinned by 10 core principles which impact every element of our delivery across our educational programmes, and our Five Part Curriculum: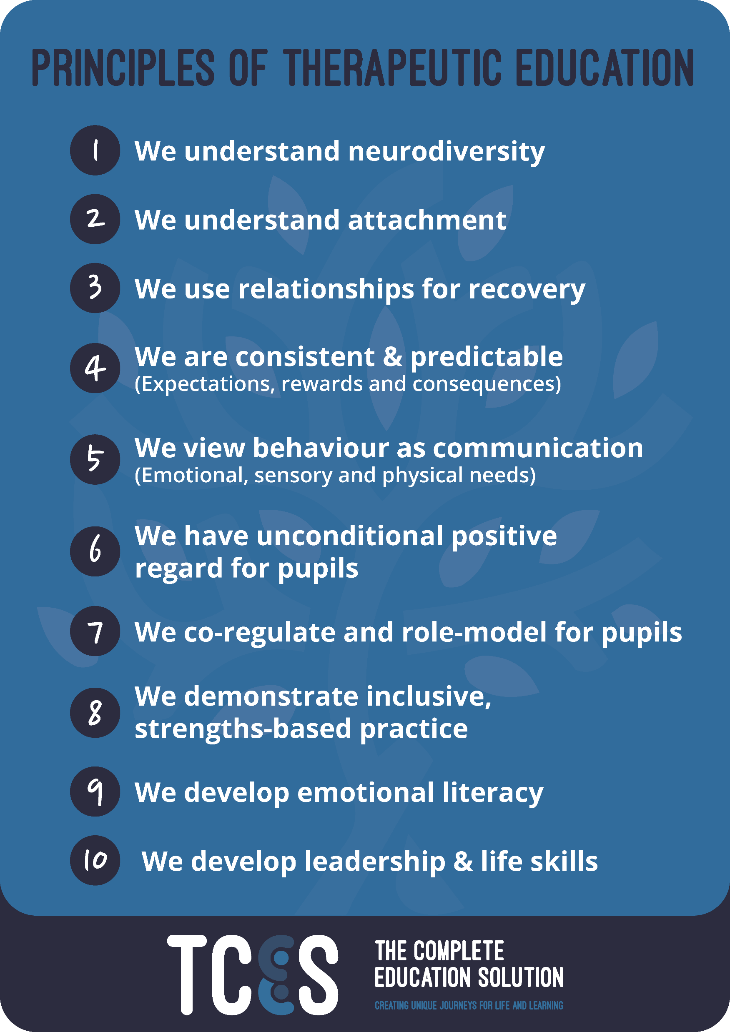 clinical
We have an experienced and skilled clinical team with therapists in based in each of our schools and services, working closely with our education, family support and leadership teams. Each school's Therapy team consist of:
Speech and Language Therapy: focusing on communication, including physical or psychological reasons for finding communication difficult.
Creative Arts Psychotherapy: using expressive arts to shape personal, social and cultural identify. (using imagery, storytelling, dance, music, drama, poetry, movement, horticulture, and/or visual arts)
Occupational Therapy: focuses on developing, recovering, or maintaining the daily living and learning skills of pupils with physical, mental, sensory or cognitive impairments.
Additional Specialist support: linking with clinical or educational psychologists, CAMHS services, animal therapies and additional specialists.
Therapy is delivered in many different methods at TCES, with therapists considering a unique approach for each pupil. We tailor our approaches and support our pupils using:
1:1 individual sessions
Group therapy sessions
Environmental adaptions and Classroom support strategies
Family support strategies
Our therapeutic approach is taken on by every member of staff working with the 10 Principles of Therapeutic Education to create a therapeutic community in every school and service. To support this we have created our own Ofqual registered qualifications in Therapeutic Education and Group Process at multiple levels from Level three to Level five (Award, Certificate and Diploma).
Young Leaders: Pupil Leadership and LIFE
Our unique and award-winning LIFE programme supports pupils of all abilities to develop leadership skills across a variety of areas and has benefits for the individual, their group, the whole school, and their communities beyond TCES. LIFE stands for the key principles we help our pupils to work towards: Leadership, Independence, Future options & employability, and Empowerment.
The LIFE programme in our schools and services includes:
Embarking on a road from Entrant to Employee through various stages of mentoring others
Leading oneself, leading others or leading in the community
Finding their talents and positive identities through a variety of leadership roles
Focussing on personal attainment and growth
Pupil leadership roles in school
Providing opportunities for Peer Mentoring, leading to our employee Alumni Mentorship.
Our pupils have often experienced many issues including multiple changes of placement and/or adults in their lives. The LIFE programme supports their ability to withstand them, and discover their many hidden talents and leadership skills.
Our LIFE programme has enjoyed recent successes in acquiring education awards, for its key role in preparing our young people for life after leaving TCES.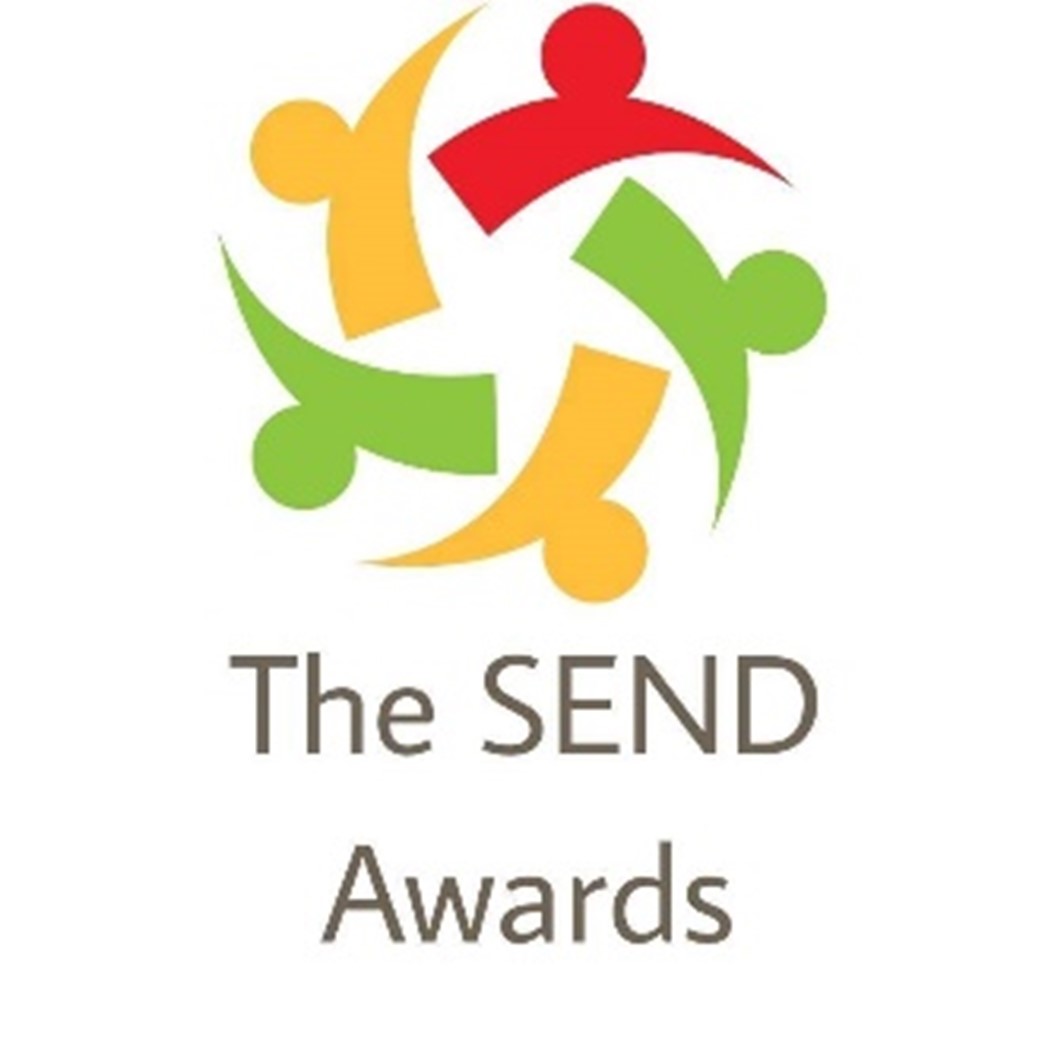 FAST
FAST is our unique Families And Schools working Together programme, enrolling whole families in our day schools. We invest in social work throughout TCES to support our complex and vulnerable pupils. Each school or service has support from a Senior Social Worker and together with our parent engagement team they work with families to support pupils' social, emotional and educational development where they are struggling.
Focussing on personal attainment and growth.
Providing opportunities for Peer Mentoring, leading to our employee Alumni Mentorship.
We work with families to ensure their children experience continuity within their Pathway plans, at home as well as at school.
Our Systemic practice is a way of working which emphasises parent and family relationships as the key to understanding pupils experiences to affect family change.
This collaborative working speeds up the programme for our exceptional pupils and provides a therapeutic approach across the whole day at school and at home.
Providing differentiated levels of universal, targeted and intensive family support to our pupil's families in line with our Triangle of Interventions.
Interventions include: Parent Council, Training programme for parents/carers, Early help and Case co-ordination where cases are complex.
Inclusion
We do not exclude pupils. We never give up on them!
Independent research by Goldsmiths University showed that schools that do not exclude transform the lives of the most complex students 'educationally, socially and emotionally'.
Researchers concluded that TCES, through its inclusive philosophy of never giving up provides 'authentic, therapeutic education at its finest'.
Our teams work to find new ways to encourage pupils to engage and take responsibility for their behaviours. Our senior support team provides additional expert advice at weekly CAN (Children with Additional Needs) panel.
A combination of our therapeutic approach, clinical support, LIFE programme and inclusion philosophy underpins our approach to Inclusion.
We believe in 'School Life Without Labels' - the only labels we tolerate are positive ones.
Inclusive environment where our schools support neurodiverse pupils together, regardless of presenting condition - preparing pupils to be able to manage in colleges and other life situations where segregation will not be the norm and nor should it be.
Weekly inclusion assemblies where pupils deliver a strengths-based 'All About Me' presentation of their strengths, superpowers, diagnosis and triggers.
Twice weekly whole school Group Process sessions
Three assemblies each week; Monday Motivational and SMSC Assembly, 'All About Me' Inclusion Assembly, and Celebration Assembly
Safeguarding
Everyone at TCES takes safeguarding extremely seriously. TCES is committed to safeguarding vulnerable children and young people and safeguarding is the responsibility of us all.
We put safeguarding at the front and centre of our schools and services and have real expertise, including:
A Governor for Safeguarding (Current LADO), Director level Head of Safeguarding, company-wide Safeguarding Lead overseeing a team of Senior Social Workers in schools and services
Real expertise in contextual Safeguarding, an intensive offer of Case Management by senior social workers for pupils who are on Child Protection plans.
Support in the step-down process from Child Protection plans to Child In Need plans.
Early identification of Safeguarding issues.
Early help built into our FAST programme to prevent children reaching CIN and in particular CP levels.