Art of the possible: A-level success for pupils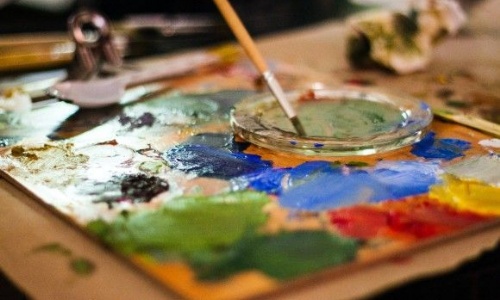 We are delighted to share news of our amazing pupils' latest successes.
We have some budding artists in our midst as three of our pupils have been awarded A-levels in Art and Design — two of which are only in Year 10 and 11.
These are their inspiring stories:
Gloria, Year 11
When Gloria was first referred to us, she needed support for speech and language. She was also struggling with mental health issues which caused significant disruption to her education — she would often take to sketching which helped with anxiety.
Our team at TCES North West London provided 'wrap around support' for Gloria and her family. We helped her family understand ways of supporting and encouraging Gloria to engage with the school — her mother is now on the school's parent council. We worked closely with Gloria to build her confidence and empower her to find her strengths and talents. With the help of the art teacher — she identified that art was one of these talents. By Year 11, after lots of hard work, she has completed and passed her Art A-level with a Grade B.
Gloria told us what it was like to get the result: "It was cool! I am happy I got the grade that I got."
Gloria's mother Jane said: "We are absolutely delighted! It is a strong, solid move forwards for her."
LLoyd, Year 10
By the time Lloyd arrived at TCES North West London he had encountered numerous exclusions from other schools. He was non-verbal and often communicated with aggression and sometimes violence.
Our team of therapists and teachers worked with the root causes and provided tailored support to help him progress. Lloyd built a positive relationship with a member of the team which helped to reduce his physical outbursts and frustrations. It was also during this time that Lloyd revealed he liked gaming. The art teacher worked with Lloyd to identify how his enthusiasm for gaming could be harnessed as a theme for his art coursework.
Lloyd began to make significant progress and even become a leader on the student council, a senior role he carried out with great maturity. His rapid improvement is reflected through his hard work and determination as he took on and passed his Art and Design A-level with a solid C — and he's only in Year 10!
Gloria and Lloyd's award-winning art teacher Paul, who has been nationally recognised for his ability to harness the talents of children with special educational needs, is so proud of their achievements.
'We Never Give Up. Hard work and determination saw them through'
Ishamar Blake, Headteacher said: 'As the new Headteacher of the North-West London School, I cannot explain how grateful I am to be part of this origination with such great A-level results for our young people. The 'never give up' ethos and our 'hard work' values helped these young people over the years to feel secure enough to showcase their talents and express how hard they have worked to be awarded with such outstanding results. I would like to thank the staff team, parents and carers who never gave up on them. Our schools and services will continue to live through our ethos and community values for all young people.
Reece, Year 13
Reece is in Year 13 and has autistic spectrum conditions with significant anxiety. Behavioural challenges brought on by triggers, fixations and frustrations meant he had been unable to be in school. The TCES Create Learning team worked with Reece and in time he became a virtual member of the student council.
However, after working intensively with the team a Create, Reece started to make great improvements and even progressed to the Create Hub, learning in an educational setting. Reece worked on his talents and developed a great sense of positivity and creativity — going from resisting his lessons to having discussions with staff and his peers to further his understanding and increasing his independence — the change in Reece is transformational.
Reece achieved a 'B' in his A-level Art and Design demonstrating his commitment to his own personal development and determination to succeed.
'We're so proud'
Our CEO Thomas Keaney expresses great pride: "I know these pupils really well, and I am aware of the challenges and vulnerabilities that were presenting when they were first placed with us. Each of these pupils had very negative experiences of prior education and indeed of fitting in. They arrived to our TCES schools withdrawn in different ways with emotional traumas from bullying and isolation. These three exceptional pupils needed staff who believed in them, to never give up on them, and they needed help in forming positive identities. They found that identity in their Art rooms with exceptional Art teachers who believed in the "Art of the Possible."
"Their success stories today are testament to their own hard work and the relationships and support of staff who cared deeply about them and who saw the budding Artists within them waiting to get out. We are so proud of these exceptional achievements in this most difficult of years."
Strengths and talents come to the fore.
Most pupils come to us with low confidence and self-esteem with feelings of distrust after being excluded by other education providers. We've worked with these pupils to build their trust and confidence — these A-level results truly bring to life our 'Never Give Up' ethos and our determination to transform young lives.
We are proud of our talented pupils and to shine the spotlight on their unique strengths and talents.
*We have changed the pupils' names to protect their identity.