Goldsmiths' research finds schools that never permanently exclude have transformed the lives of UK's most complex and vulnerable students 'educationally, emotionally and socially'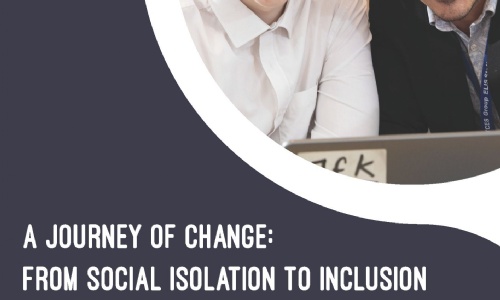 An independent research study published today (Friday 8th November) by Goldsmiths University of London has found that The Complete Education Solution (TCES) – a family-owned group of Local Authority-funded special schools and services whose policy is never to permanently exclude – has transformed the life chances of its students who are among the top 5% of the most complex and vulnerable children and young people in the UK.
The research – which TCES is now using to pilot a 'Reach-Out' programme with maintained schools – included in-depth interviews and focus groups with students who had left a TCES school or service within the last five years. Ninety per cent of TCES's graduates are in education, training or employment up to 5 years after leaving school.
Researchers stated that 'an emphasis on attachment, along with a diversified and differentiated curriculum, with group process at its core, allowed these young people to feel understood, to feel welcomed and to learn the social and academic skills to engage with all aspects of life more positively,'. Researchers concluded that TCES, through its inclusive philosophy of never giving up provides 'authentic, therapeutic education at its finest', which 'is effective in transforming the lives of its pupils educationally, emotionally and socially' within its inclusive schools.
Thomas Keaney, CEO and Schools' Proprietor of TCES – recently named NASEN (National Association of Special Educational Needs) SEND Leader of the Year says:
Pupils with SEND account for 45% of permanent exclusions, and with off-rolling, managed moves and so on we know this figure is just the tip of the iceberg. The impact on families, schools and communities of permanent exclusions is devastating.

We're of course delighted that Goldsmiths found the work we're doing in TCES schools is transformational. But even more importantly we hope the findings of this research will have much wider implications. By talking to former TCES students themselves – voices that far too often get lost in the exclusion conversation – researchers got to the heart of what made the difference.

This was a combination of being listened to and understood by well-trained professionals, being encouraged to play an active role in their school community, support to develop their sense of identity around their strengths and their future. And under-pinning all of this was the knowledge that we would never, ever give up on them.
In the words of TCES alumni 'Ben':
Yeah, they don't give up….You could tell them a thousand times to basically go away, and they will still stand there. It doesn't matter what you say or do. I don't know how they put up with it..I mean, to be able to still stand there and be like, "No, I'm not giving up on you pupils." You've got to genuinely care … to take that sort of thing every single day of the week.. You've got to be passionate and you need to care to be able to do that 100%.
Caroline Frizell and David Woodger Goldsmiths researchers say:
Exclusion is damaging for the whole community, reinforcing attitudes of intolerance and prejudice, as well as maintaining a system that is inflexible and unresponsive to difference. There is no evidence supporting the notion that exclusion serves as a deterrent and/or makes students fall into line. Instead, it further ostracises young people who are already struggling with finding a place of belonging.

This research is strong evidence that when that threat of exclusion is removed you create the space for the trust, attachment and sense of identity that these young people need to open up and make significant progress educationally, emotionally and socially. The attitude of never giving up cascades into the student experience.
TCES Patron Dame Esther Rantzen says:
We are extremely grateful to the children and young people who took part in this research and about whom you will read in the report. Their achievements are conclusive evidence that TCES's approach works and works well, and I believe that its policy of never permanently excluding, along with other interventions could and should be used as a template for the educational sector as a whole.
Thomas Keaney continues:
Working with disadvantaged children and young people has been my life's work. But as we mark our 20th birthday my wish is that schools like ours will cease to be needed.

We know what works in place of exclusion and we're currently working on a pilot programme to support mainstream schools with those alternatives. In the meantime, I hope all school leaders will take a look at this research and reflect on how far the key ingredients are embedded in their approach to working with children at risk of exclusion. If they conclude they could do more, I'd strongly urge them to do so for the sake of all our children and young people.
Goldsmiths' findings, as evidenced through TCES graduates' own words, were presented across a number of key themes which, taken together, provide a powerful blueprint of school practice to avoid the need to permanently exclude.
Embedding a 'never give up' philosophy from day one
'TCES staff demonstrated an ability to manage, contain and respond to difficult and disruptive behaviour, rather than to retaliate and/or resort to permanent exclusion. This inclusive approach has a deep and lasting influence. Participants noted how it contributed to their stability and security.'
'She taught me so much and I couldn't thank her enough. She just taught me how to love myself…how to love education.'
'He was friendly, he was nice and he's that kind of person that would never give up on you or push you to do a lot. And he was there sort of just pushing you gently to do a little bit more, a little bit more.'
Promoting understanding of need for attachment and the impact of loss
'Staff at TCES are able to meet students where they are and respond to what they need, with a long-term goal of building safety.'
'I mean they're brilliant… I don't know who I would be if I wasn't at that school….they played a massive part…. they helped me find myself. I think it was them just genuinely understanding me and me letting them help me'
Providing a person-centred curriculum with high expectations
Researchers noted that 'Participants described a person-centred curriculum at TCES that sought to identify the unique gifts of each student and encouraged individualised learning. This approach made learning relevant and accessible to students who might have become resistant through a history of alienation and exclusion. TCES support students to build skills over time and to conceptualise idea about future careers.'
'They just helped me one-to-one to do things and sit in class, which would help me with my maths and with other sort of stuff. Yeah. Even if the class was ahead, I would still be behind having help, which I didn't mind because it was helping me out.'
'My teacher would always tell me 'You should do more'. And…the times where I struggle with a test or something and I'll just leave a question he'd be like, 'Try and see if you can get through it…Read the question properly and see if you can solve it. If you can't, I'll come and help you'. So, he motivated me to do more and that's how I managed to get a lot of qualifications…he tried and help me solve things that I…have difficulty solving. So, I guess my teacher was kind of like my inspiration.'
Fully developing students' clear sense of identity, pride and purpose
All participants introduced themselves by identifying strongly with a religion or a profession.
Asked what they planned to do next in life students answered, 'They have me encourage myself and once I know what I'm doing, you can just leave me for hours and I'll be able to do it', and 'Well. I guess to become a vehicle technician and then eventually…an engineer. But apart from that…probably to travel the world.'
Researchers described these attitudes as 'remarkable, given the low self-esteem and reckless behaviour that characterised their lives before TCES.'
Driving regular opportunities for students to practise their empathy
'Participants recognised the importance of empathy through reciprocal relationships and receiving an empathic attitude from staff, allowed them to offer empathy to others. For example, in talking about supporting other students, one participant said: 'I would try and Include them …to help them to join in…. For instance.. if we're in a group and the other kid didn't want to be, I will try and help them out by saying "It's okay, you can come in. Everyone's welcome." Try and include them so they'll feel welcome and loved…everyone deserves to feel loved.'
Developing community through belonging
Researchers noted that: 'All participants mentioned the centrality of group process and its power and significance.' And also that, 'The creation of community and developing friendships across the school is significantly enabled through the group process.'
'..I feel like I did have my voice heard… sometimes I felt like .. people weren't listening to me. There were times .. I felt that no one was listening. But now I feel like my voice is getting heard and I feel like things are changing in the school.
'They always made sure that we could interact with other children there, 100%…the whole school was based around just being a massive group and working as a team…So, you would always be forced to basically speak to the other pupils…so that way you would always make friendships in whatever that way.'