TCES East London win football tournament for a third year running!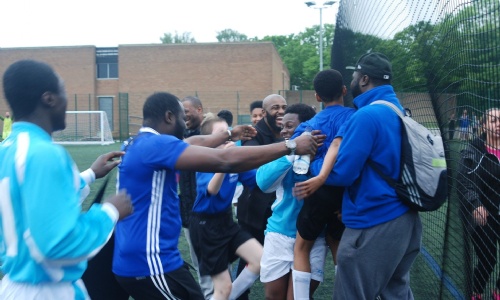 TCES Group converge on the pitches at Brentwood Leisure Centre in Essex for the annual inter-schools football tournament.
Teams from Witham and Clacton Essex Fresh Start, East London Independent School, Create London and North West London Independent School all gathered to compete on what began a dark and dreary day. Somewhat miraculously the rain held off which allowed the skills and sportsmanship of our players to shine.
Create London merged with the Witham team, demonstrating an admirable level of respect between the schools and their respective players.
NWLIS player Tia represented the only female competing in the tournament.
Each team was divided into two, A and B, and arranged according to age. The results are as below:
League 1
Clacton A 1 vs NWLIS A 1
ELIS A 3 vs Clacton A 0
ELIS A 2 vs NWLIS A 1
League 2
Clacton B 0 vs Witham/Create 2
ELIS B 3 Vs NWLIS B 1
Clacton B 1 Vs ELIS B 1
NWLIS B 0 Vs Witham/Create 2
Witham/Create 3 v ELIS B 1
Clacton B 4 Vs NWLIS B 3
3/4 place runners up were NWLIS who won on penalties.
The Final:
Witham /Create vs ELIS proved a tense match as the game ended with a penalty shoot out, with ELIS for the third year winning the coveted trophy.
Winners: EAST LONDON INDEPENDENT SCHOOL
Runners up: WITHAM /CREATE LONDON
SPORTSMANSHIP AWARD: Micky Blackwell at NWLIS
PLAYER OF THE TOURNAMENT: Frankie Longhurst at Witham/Create
Many thanks to all who helped organise the event and well done to all pupils who took part. Look out for our team player and staff interviews coming soon!