North West London Independent School pupil commended for 'helping saving man's life'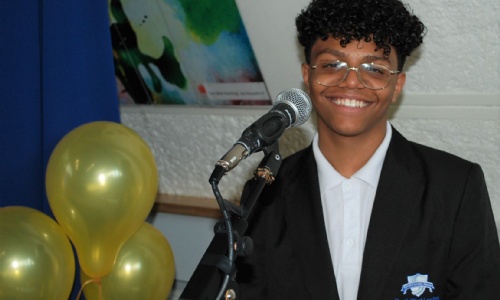 A west London pupil with special educational needs has received praise from a Kensington Aldridge Academy teacher after displaying 'excellent judgement' when attending to a member of public with a suspected head injury in September.
Y11 pupil Hussein, who has a diagnosis of both Attention Deficit Hyperactivity Disorder (ADHD) and Oppositional Defiant Disorder (ODD), currently attends North West London Independent School, an independent day-school for children with Social, Emotional and Mental Health needs (SEMH) or an Autism Spectrum Condition (ASC).
The unexpected turn of events required Hussein to act quickly and decisively when he came across the injured man, who was lying on the pavement with a head wound. Hussein wasted no time in dialling 999 to call an ambulance and gave directions to the scene.
Daniel Prasch, who teaches at Kensington Aldridge Academy, was walking past as the incident unfolded and observed that Hussein "showed excellent judgement, was very helpful and confident in talking to everyone, including the injured man, and was a huge help to him personally."
Hussein astutely removed his shirt to use as a bandage to help stop the bleeding, remaining cool and calm throughout, while Mr Prasch sourced a first aid kit, observing: "Hussein possibly helped to save the man's life."
The man was subsequently transferred to the nearby A&E department by ambulance.
Mr Prasch couldn't speak highly enough of Hussein and telephoned North West London Independent School personally to commend his actions. Commented Co-Head Teacher Kevin Parker, "At North West London Independent School we teach pupils the importance of being involved in their community. We support pupils to develop as leaders. However, we cannot control how they act in their own time. With no one to guide Hussein at the scene, this young man has displayed a gigantic spirit in attending to an injured man, who was overlooked by most adults that day. I feel his actions completely endorse what we are striving for in our holistic educational approach, because it was entirely his choice to act in this way. The future looks bright if Hussein represents the next generation of adults in our community." Equally, Hussein's parents are "very proud of our son for what he did."
Hussein, who has since been elected President of North-West London Independent School's Student Council, said of his actions: "Sometimes in life, if there is something you want to do, you should go for it. When I saw the man on the floor, my body just moved on its own; I didn't think twice. I want to remind all young people that there are no limits to what they can do."
One of the UK's leading Black History and Culture Specialists, Andrew Muhammed, celebrated Hussein's efforts during a recent school assembly, remarking: "It is a true honour and joy to use Hussein as a true living example of leadership in action." Mr Muhammed has been instrumental in supporting North West London Independent School, establishing leadership curriculum lessons and delivering inspirational assemblies which have transformed pupils' leadership skills