Local politician visits TCES North West London and The Hub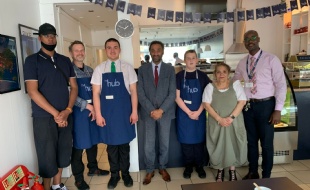 It's not often you get VIPs popping in for tea and cake. Labour's Dr Onkar Sahota, member of the London Assembly for Ealing and Hillingdon, paid a visit to TCES North West London today to learn about services provided within the school.
Headteacher Ishamar Blake, took Dr Onkar Sahota on a mini tour of the premises in North West London to witness first-hand the school in action, seeing both pupils and students at work. Dr Onkar Sahota also made the short walk down the road to visit The Hub café which was launched earlier this year in March. On his visit today, Dr Sahota was there to witness pupils serving the public for the first time and was impressed with the level of professionalism on display.
The Hub gives our post-16 students opportunities to gain work experience and GCSE, BTEC and industry standard qualifications in catering and food technology, hospitality and customer service, food hygiene, health and safety and business studies.