'This is Britain at its best'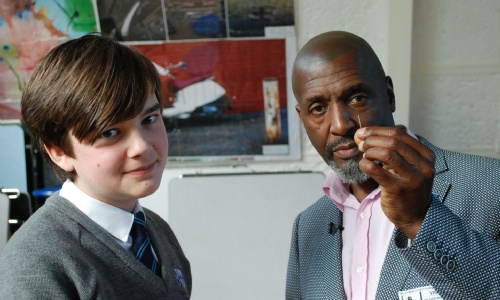 North West London Independent School welcomed micro-sculptor Willard Wigan MBE, who visited the school and spoke of the pupils' 'tidal wave of talent', encouraging them to embrace their learning differences.
Willard, creator of the world's smallest handmade sculptures in history, enthralled pupils and staff at the Acton-based school, showcasing his microscopic art by way of visual aids. The internationally renowned-artist also brought in microscopes, enabling pupils to discover an enticing world carved from a variety of materials that can sit within the eye of a needle, or the end of an eyelash.
Willard spoke of his own experiences as a child at school in the Midlands, where he struggled with autism and dyslexia. He spoke of being 'blessed, not bitter' about his diagnoses, encouraging pupils to embrace their 'hidden talents' as a gift to the world. Addressing his audience, Willard advised: "Don't underestimate the tidal wave of talent at North West London Independent School. This is where it is: the pupils here are unique. Some of the best engineers in the world could come from here. This is Britain at its best."
Year 11 pupil and Co-President of the Student Council, Rochelle – accompanied by fellow Student Council member Bailey – confidently and articulately toured the school with Willard. Particularly impressed with the school's art department, Willard spoke to several pupils, including post-16 student Michael, who played his film 'Stormie and Friends' (a self-taught series, created with the Stop motion animated-film making technique). Fellow post-16 art student Myles was particularly impressed with Willard's sculptures and managed to photograph them by pointing his camera onto the microscope lens.
TCES Group CEO & Schools' Proprietor Thomas Keaney reflected, "What an amazing day at North West London Independent School. Willard Wigan is the most inspirational man who talked to our pupils about his Asperger's Syndrome gifts and being bullied and ignored by teachers. Now he makes micro-sculptures, one given to the Queen, and he is an MBE."
To find out more about Willard Wigan, please visit his website at www.willardwiganmbe.com