Official opening of East London Independent School's state-of-the-art building by Dame Esther Rantzen DBE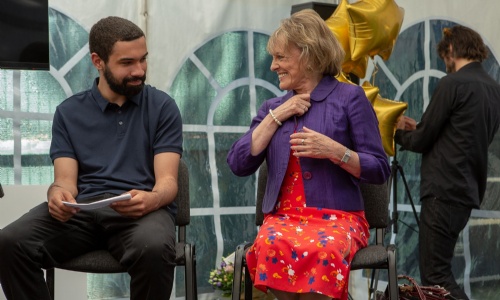 East London Independent School's new state-of-the-art building in Stratford, East London has been officially opened by Dame Esther Rantzen DBE.
The respected TV presenter and journalist joined pupils, parents, staff and special guests on Friday 29 June to see how the school has extended its site by redeveloping a church building that dates back to 1775. The £1.5m redevelopment means the school will be able to almost double its intake from 38 to 70.
During the opening event, Dame Esther Rantzen and other guests toured the school and saw that the refurbished church now boasts six new classrooms, as well as a double art room and state-of-the-art classrooms for science, ICT and food technology. There is also a new school hall, two sensory rooms, and an excellent outside space.
To accommodate it all, the single storey church building has been converted to two storeys, retaining all the existing windows that now cast light both upstairs and downstairs. The school's specially designed low-arousal, autism-friendly environment suits all pupils at the school, regardless of their individual needs.
The school is part of TCES Group. The social enterprise has been supporting young people aged 7-19 years with social, emotional and mental health (SEMH) or autism spectrum conditions (ASC) for almost 20 years.
Uniquely, at TCES Group schools, pupils of all abilities and disabilities learn alongside each other in a general education setting supported by a skilled team of educators.
In June 2018, the school was awarded the Inclusion Quality Mark Award (IQM). IQM is the only national award for inclusion and provides validation of current practice in UK schools. The school has also been rated Outstanding by Ofsted.
Dame Esther Rantzen DBE said:
"It was a privilege to open this remarkable school building and see the amazing new spaces that have been created to support pupils with special education needs. This building represents the school's commitment to integration, and their inclusive approach means that more young people in east London will be educated locally and get the support they need. I'm sure staff and pupils will enjoy and benefit greatly from their new facilities."

Dame esther rantzen, dbe
Thomas Keaney, CEO and Schools' Proprietor of TCES Group, said:
"By converting this church, we've shown what can be achieved when you remove labels and dare to be ambitious. The new school building complements our unique and innovative approach to education. It will enable us to support more young people with a range of different and often complex needs.

"Although it is often necessary to label children initially to ensure that they can get the support they need, we strongly believe that they should not then be segregated and divided according to their support needs. Labels are debilitating and can hold back children and young people.

"Our inspiring new school building will enable us to seamlessly bring together pupils with social, emotional and mental health needs or an autism spectrum condition and ensure that they can achieve the very best in life."

thomas keaney