Sir William Atkinson opens TCES Group's latest Barking Hub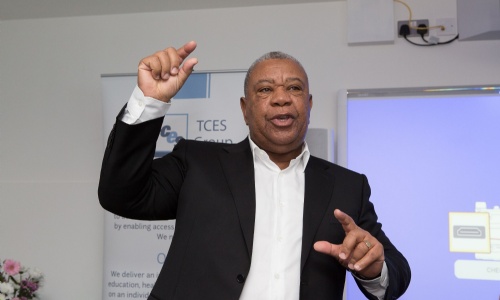 TCES Group was delighted that Sir William Atkinson officially opened its new Therapeutic Hub in Barking, Essex on Friday 9 December 2016.
During the official launch event, also attended by the Mayor of Barking & Dagenham, staff and pupils showed visitors – including parents and carers, Local Authority representatives and neighbours – around the new facilities and were able to demonstrate some of their amazing skills and achievements. The clinical and staff teams were also on hand to chat to visitors about the invaluable service they provide.
This new Therapeutic Hub is a welcome addition to the Create Service, enabling the organisation to expand its expertise to a greater number of children and young people who require specialist education placements from the TCES Group.
Create Service runs parallel to TCES Group's independent schools. Through therapeutic education it offers solutions to transform high risk complex students, who were previously unable to engage with and succeed in the formal learning environment of a small group setting in school. The highly-skilled and focused staff team helps to break down multiple barriers to learning by promoting the educational, social and health needs of its pupils, and supports each individual's growth towards independent learning, then eventually moving into groups.
In operation since September, this second Therapeutic Hub (the first is situated in Romford) provides access to a normal, stable educational experience in a school setting for pupils aged between 7-19 years. The Create Service offers a community-based school experience which provides an alternative to the out of borough placements that many of these children typically find themselves in.
In addition to academic and vocational experiences, the Create Service Therapy Team offers counselling, art and drama therapy with Speech and Language and Occupational Therapists working directly with pupils. More specialist assessment from TCES Group's Consultant Clinical Psychologist and Consultant Paediatrician are available to pupils who are struggling to engage with learning for reasons that are not clear.
Thomas Keaney, TCES Group's CEO and Schools' Proprietor, says: "We are delighted to be opening our second Therapeutic Hub here in Barking. Our vision is to provide education settings that are inclusive, thriving, and socially and emotionally healthy. We know how important our 'Team Around the Child' is in ensuring the best outcomes for these pupils and we strongly believe that human beings thrive in positive environments."