Rt Hon Priti Patel MP visits Essex Fresh Start School, Witham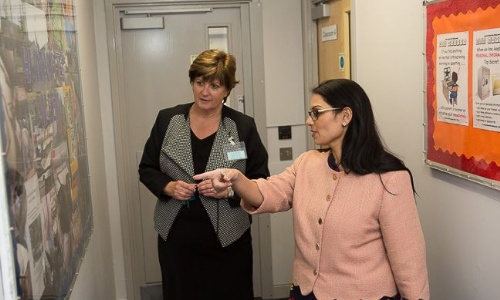 On Friday 29th April, Essex Fresh Start Independent School (EFS) opened its doors again to the public, inviting local residents and businesses in to get a peek behind the scenes in Witham's newest school.
Along with locals, Rt Hon Priti Patel MP was welcomed in for afternoon tea and a tour to learn about the day-to-day work of the school, to see examples of pupil's work and to meet staff and pupils.
Head Teacher Cheryl Rutter said, "We are delighted that Priti Patel was able to join us and that she showed such an interest in what we're trying to achieve here. Our 'At Home' event was a great way for our neighbours to meet our pupils and teachers, seeing for themselves the fantastic work our pupils are capable of. We want the people of Witham to know that we're very happy for anyone to visit us and find that people are always keen to understand what we do."
Priti Patel said, "The work that EFS Witham is doing for its pupils is of huge importance, making the school an integral part of the local community. It was a privilege to see the support that the staff provide and the opportunities they are helping to create for their pupils' future."
As with all TCES Group schools, EFS Witham caters for children with Social, Emotional or Mental Health (SEMH) needs, and those with Autism Spectrum Conditions (ASC), many of whom have been excluded from mainstream schools, or didn't have access to the right level of support for their needs in a mainstream setting. Pupils often have previously undiagnosed learning needs, and Speech, Language and Communication Needs (SLCN) are not uncommon.
School's focus is on breaking down multiple barriers to learning by promoting the educational, social and health needs of its pupils, where highly-skilled and focused staff teams are able to support each individual's growth towards independent learning in groups. A structured routine in a safe, inspiring environment encourages mutual respect and tolerance, and each child's ambitions are nurtured to help them make positive choices for their future careers.
In addition to academic and vocational experiences, EFS Witham's Clinical and Therapy Team offers counselling, art and drama therapy, while Speech & Language and Occupational Therapists work directly with pupils. More specialist assessment from TCES Group's Consultant Clinical Psychologist and Consultant Paediatrician are available to pupils who are struggling to engage with learning for reasons that are not clear.
In operation since September, EFS Witham is a lovely old red-brick building, which has been a school since 1902. Following an ambitious remodelling project, the school is equipped to educate up to 25 pupils between 7-18 years.