GCSE Results 2017: NWLIS pupils achieve highest possible A* grade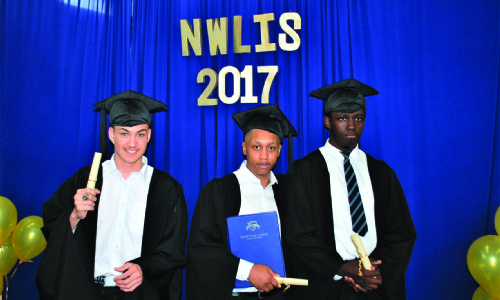 Please enter an introduction for your news story here.
Two NWLIS pupils achieved A* grades this summer in Art and Graphics. These are the highest possible grades, and the first time achieved by any pupil in TCES Group's 16-year history. The highest grades achieved for Science, Maths and PE were also achieved by NWLIS pupils this summer. NWLIS pupils achieved a 100% pass rate for all qualifications in Maths, PE, Science and Art, and 82% passing in English.
Myles will continue his education at NWLIS having gained six qualifications, including three GCSEs, one of them being an A grade. Laquain will leave for Westminster College with five GCSEs, one of them an A grade. 75% of Y11 pupils are leaving with five or more qualifications and all will leave with at least two.
Remarkably, Y10 pupils did not want to feel left out, themselves achieving 18 qualifications, including three GCSEs.
"I am really pleased that all the hard work by the pupils has paid off" said Ruby Regan, NWLIS' PE Instructor who welcomed the best set of results for her subject at NWLIS with seven GCSEs, with an improved average score. "It is particularly pleasing for those in Y10 who were entered and did so well."
Art teacher Paul Morris was already thinking about improvements for next year, even though 83% of pupils achieved an 'A' grade in Art or better, with two A* grades representing a third of the entries. "I have known for some time that we have some really talented pupils and I have worked diligently to support their progress throughout the year. I am really pleased, but not totally surprised, that the examiners agreed with my judgements."
"My targets for the year ahead are for all pupils to aim for an 'A' grade and to develop the A-level work with those pupils continuing their post-16 education with NWLIS."
Overall, the 2017 results comprise of 22 GCSEs and a total of 48 qualifications, a remarkable achievement for pupils who have, on average, lost 18 months of schooling from their education journey as well as numerous interruptions and new starts.
Katrina Medley and Kevin Parker, Co-Head Teachers of NWLIS, were keen to congratulate the staff team, past and present, who have supported the Y11 pupils over time. "TCES Group is relentless in its pursuit of Inclusion for our pupils. This is developed through various means, but ultimately pupils will find it easier to be included in adulthood if they hold the certificates and qualifications which enable them to access employment and education. These improved results demonstrate our commitment to deliver these for our pupils at NWLIS".