Lockdown art wows legends of stage and screen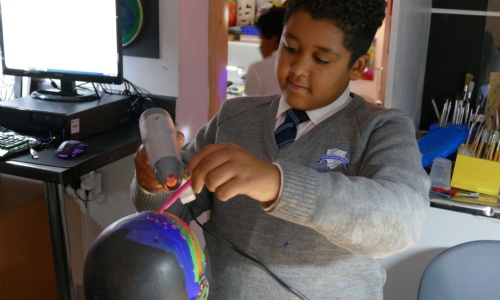 It's not every day you get to have your dancing judged by ballroom icon Len Goodman or have Bond actor Colin Salmon comment on your skill at creating powerful characters, but that's exactly what's happened for TCES pupils.
Pupils have wowed a team of celebrity judges with their incredible works of art created during lockdown.
The 'Art of the Possible' competition was created by TCES Head of Arts Faculty Paul Morris, currently in the running for a National Pearson Teaching Award for his work with SEND children, as a way for children to manage their anxiety and feel a sense of creative calm during lockdown and COVID-19 uncertainty.
Musical theatre legend Elaine Paige, who judged the craft category, says:
Judging the incredible work that TCES pupils have produced during lockdown has been a real honour. It's clear from the detail, the careful planning and the quite extraordinary use of texture and colour that creating these pieces has been utterly absorbing for the pupils, and it seems to be that it allowed them to tune out from the anxieties of the last few months.
Elaine was joined on the judging panel by ballroom icon Len Goodman, Bond actor Colin Salmon, illustrator Fiona Hawthorne and TCES Patron Dame Esther Rantzen.
The Art of the Possible attracted entries from TCES pupils in a broad range of categories from dance to photography, animation to illustration. Each entry has been included in a professional virtual art gallery for all to enjoy.
CEO and Schools' Proprietor Thomas Keaney says:
We recognised the need to pull out all the stops to engage our exceptional pupils with SEND during lockdown. Our children's experiences mean they often struggle to have a strengths-based perception of themselves at the best of times. This competition was us saying to our pupils that their art is a talent that defies labels, it deserves to be seen, and it deserves to be judged by incredible individuals who have all excelled in their chosen art form.
Y7 pupil Lee from TCES North West London, who won 'Judge's Choice' in the Art category for his piece entitled Black and White Angel, says: "I enjoyed entering and seeing my work in a virtual exhibition. It was fun to work with fabric paints."
Y9 pupil Bly from TCES North West London says: "I really liked that my work was reviewed by professional artists."
TCES' Patron Dame Esther Rantzen says:
With this competition TCES has shown once again that they can create brilliant projects to support and empower some of our most vulnerable children. The teachers managed to take the time to create this wonderful opportunity for pupils to showcase their art, while at the same time dealing with all the other challenges of COVID and that is testament to their extraordinary commitment. I congratulate all the artists for their stunning pieces, and the staff for their creativity and thoughtfulness.
Artist Fiona Hawthorne and her actor husband Colin Salmon say:
Thank you for allowing us the privilege of being part of this art competition – we commend the students and teachers for working together to make art, and for giving it a platform for audiences to see.
Competition categories, judges and recipients of Judge's Special Prize in each category as follows:
Judge's Special Prize for craft, judged by Elaine Paige: Skye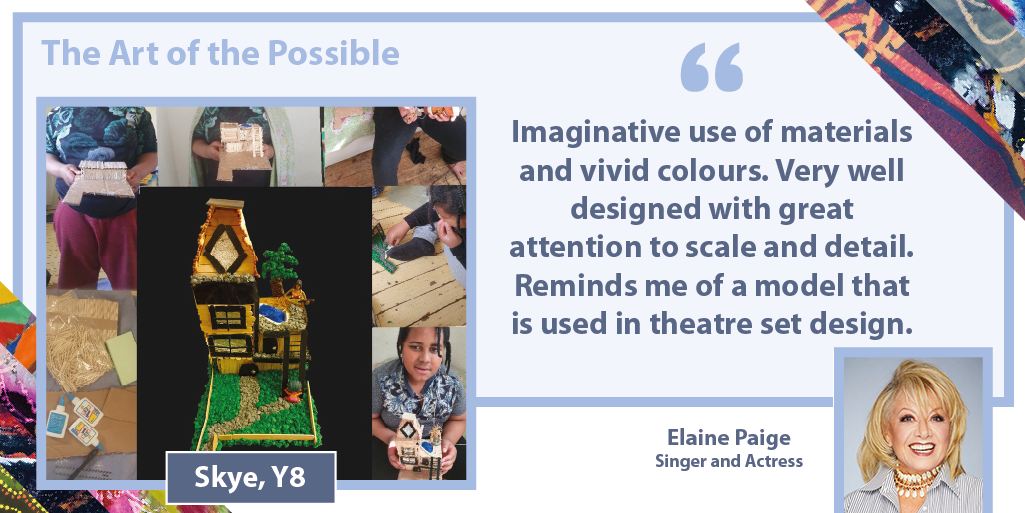 Judge's Special Prize for photography, judged by Dame Esther Rantzen: Aadam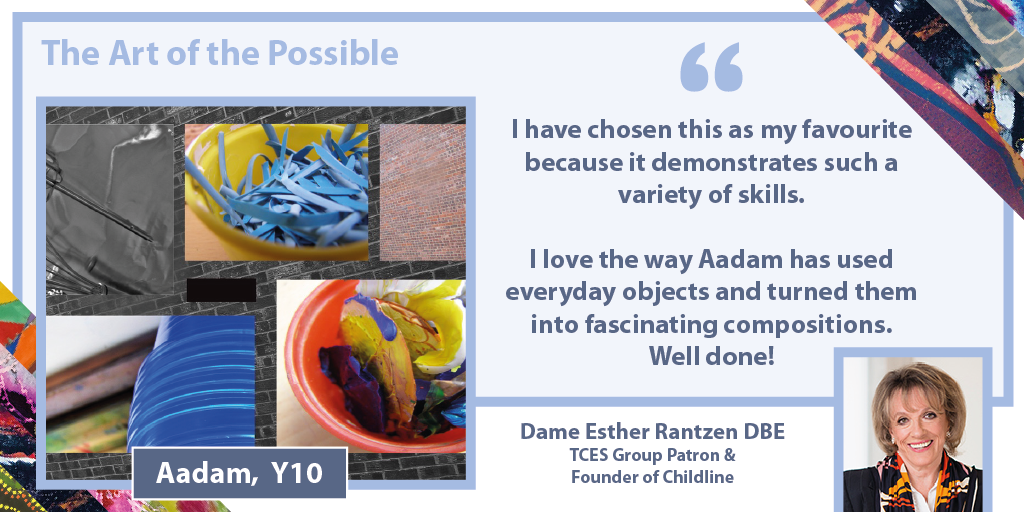 Judges' Special Prize for art, judged by Colin Salmon and Fiona Hawthorne: Lee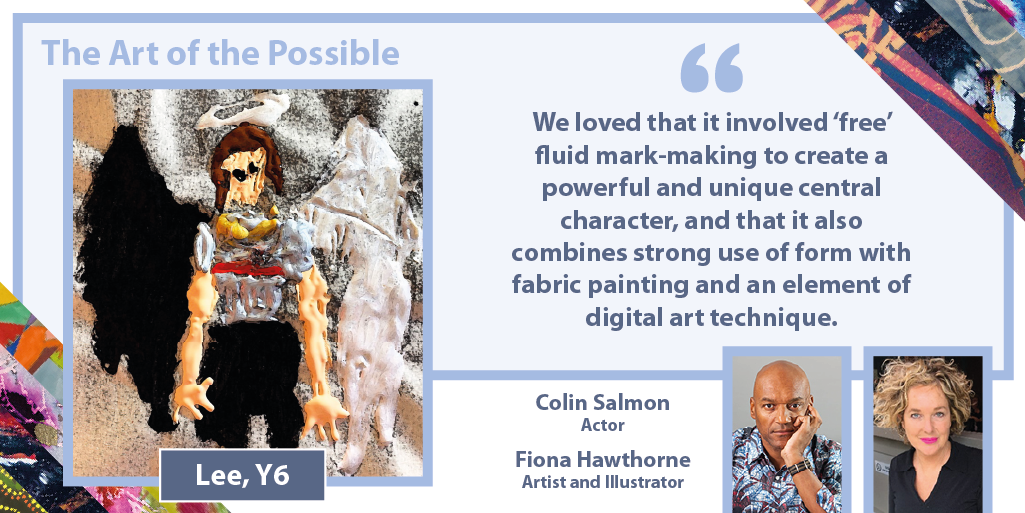 Judges' Special Prize for digital art, judged by Colin Salmon and Fiona Hawthorne: Diaz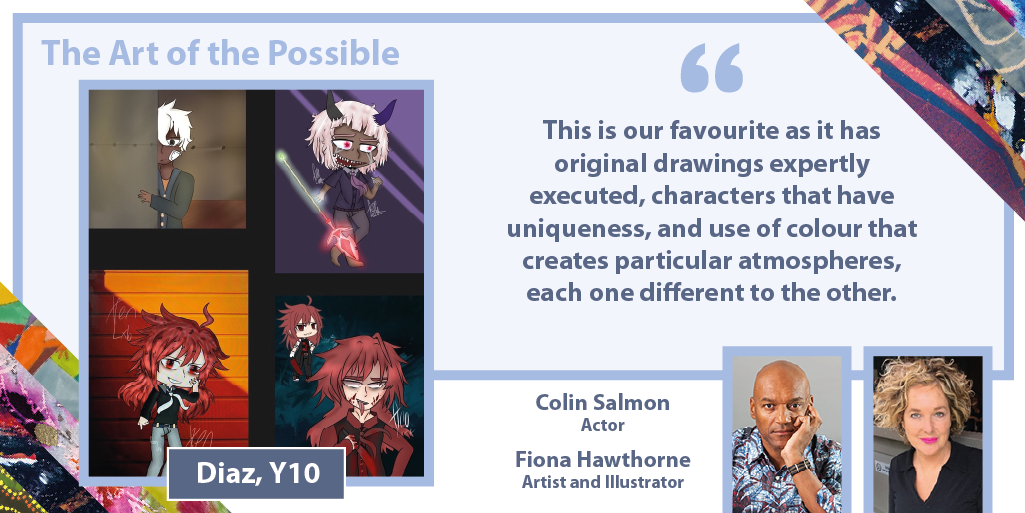 Judge's Special Prize for performing arts, judged by Len Goodman: Samim