Childline founder Dame Esther Rantzen becomes patron for TCES Group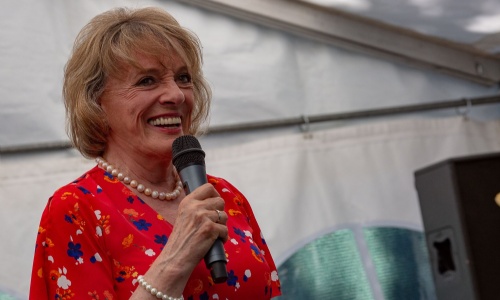 Dame Esther's Patronage recognises 20 years of specialist education for children and young people with complex needs.
Dame Esther Rantzen, Founder of Childline and presenter of the UK's iconic TV programme 'That's Life', has been named as Patron of TCES Group, to mark the beginning of their 20th anniversary year.
TCES Group is an innovative social enterprise with independent schools based across London and Essex, which has been supporting children aged 7-19 years with complex and co-morbid Autism Spectrum Conditions (ASC) and Social, Emotional, Mental Health (SEMH) needs since 1999.
Dame Esther will now take up the role in order to help raise awareness of how specialist therapeutic education for children and young people can positively transform their lives.
At TCES Group, the approach to teaching children and young people aims to be inclusive and unique. In addition to more traditional class-based teaching of core subjects and a wide range of accredited courses, pupils are taught leadership, and thinking and social skills. The group's objective is to reintegrate pupils back into the community, ensuring that they keep away from the antisocial behaviours that is so common among excluded pupils today.
Dame Esther Rantzen said:
"I'm delighted to be Patron for TCES Group and to champion these young people. I have seen first-hand how this unique formula for therapeutic education can work – how the positive environments and supportive staff team are helping children to build trust and respect.

"During my visit earlier this year, I spoke to a group of mature and confident young people who, despite significant learning challenges, are now embracing education at TCES Group and demonstrating that they are society's potential young leaders of the future."
TCES Group CEO and School's proprietor Thomas Keaney said:
"I'd like to thank Dame Esther on behalf of all of our staff, Governors and especially the children, for agreeing to become our Patron – marking the start of our 20th anniversary year. We are thrilled and honoured.

"Over these past 19 plus years we believe that we have learned, through continuous improvement, how to successfully engage with some of the most complex children and young people in the country, with severe mental health problems, co-morbid autistic spectrum condition and challenging behaviour.

"I am proud to say that we have never permanently excluded one of the 3,000 plus pupils that we have educated in this time. We have been very privileged to support these SEND pupils, many of whom are Children in Care. Without this support too many of these pupils end up becoming negative statistics in terms of unemployment, substance abuse, homelessness or prison. This vital investment in these pupils reduces the emotional cost to the pupils and their families and the long term and very significant financial cost to society".