TCES celebrates the start of its third decade by rebranding to 'The Complete Education Solution'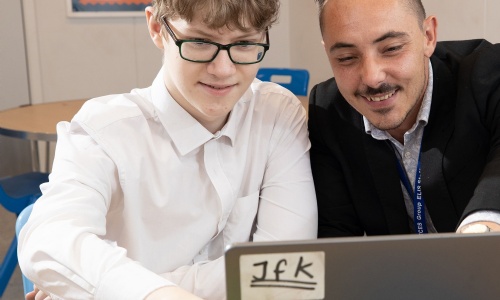 We are delighted to announce that from December 2020 TCES has an exciting and fresh new name, look and website. We will now be known as The Complete Education Solution (TCES).
The name change and rebrand, introduced during our 21st year, is designed to more accurately represent the unique operations of TCES today, reflecting that we are truly an inclusive and innovative 21st century organisation, which transforms lives through the delivery of sector-leading therapeutic education and a pupil leadership curriculum.
Alongside the corporate changes, the names and logos of our schools and services have been updated to TCES East London, TCES North West London, TCES Create Learning and, our new service TCES Home Learning – bringing inclusiveness and consistency to the look and feel of the entire organisation.
The new logos are crisp, fresh and modern. Each school and service has their own version, differentiated by colour. Within the logo the 'E' represents an adult and child/pupil and reflects the care and attention we put into every individual's education, as well as the strong relationships built between staff, pupils, parents/carers and our local communities.
At the same time, the new name encompasses our innovative 'step down' programme of therapeutic education solutions. These provide the most complex and vulnerable children and young people aged 5-19 years, diagnosed with Social, Emotional and Mental Health (SEMH) needs or an Autism Spectrum Condition (ASC) with effective and bespoke journeys for life and learning.
CEO and Schools' Proprietor, Thomas Keaney says: "We were aware that it was time to look at rebranding. Having originally started as a social care company back in 1999, we have now transitioned into one of the larger providers of independent education for pupils with co-morbid SEMH needs or ASC. Over the past 20 years, we have supported over 3,000 pupils with our unique therapeutic education and I'm proud to say that this has been without a single permanent exclusion.
"The original name clearly no longer reflected who we are today and what we do. Not wanting to move away from the well-regarded 'TCES', we explored what else this might stand for and settled on The Complete Education Solution.
"Our new name and branding is a clear indication that TCES offers a full range of educational pathways, tailored to each pupil. This might start with TCES Home Learning, which educates those children who are unable to physically attend school for a variety of reasons, including severe anxiety and school phobia. Others might join TCES Create Learning that runs parallel to our schools, supporting pupils who are not yet ready to engage with and succeed in formal small group learning environments. Our ultimate goal is to prepare all our pupils, at whatever point they join us, for life beyond TCES, whether that be mainstream school, college or work."
To mark the occasion, in addition to our new branding and website we are relaunching an independent report that was the result of an extensive piece of research by Goldsmiths University of London during our 20th year. The research concludes that TCES has transformed the lives of the UK's most complex and vulnerable pupils 'educationally, emotionally and socially'. A powerful blueprint of school practice, to avoid the need to permanently exclude, was provided by TCES alongside the report and can be found here.
To discuss placing a child or young person with us please contact referrals@tces.org.uk.