Sportsmanship to be proud of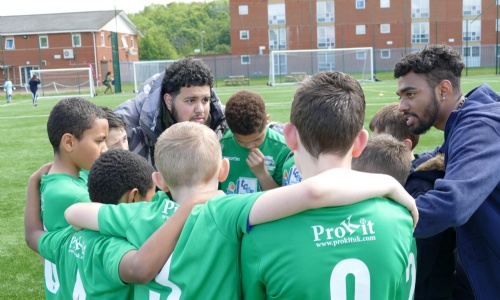 The TCES Group inter-schools football tournament made a welcome return this year, with some notable differences in honour of the company's 20th anniversary
Hosted this time by the West Ham United Foundation, teams were outfitted with specially commissioned kits, in colours selected by the schools themselves, adorned with the special anniversary logo.
Hard work
A lot of hard work and planning went into the event, led by ELIS PE Teacher Eddie Szostak, with an excellent pay-off, as pupils showed many examples of outstanding sporting behaviour, while giving it their all in six-a-side matches against each other.
Eddie said "Thanks to the commitment and attitude of the students, hard work of TCES Group staff and the organisation of the day by West Ham United Foundation staff, the football tournament was a great success. Students showed competitiveness and sportsmanship in equal measure, and the games were played in great spirit."
NWLIS Alumni Mentor Hussein returned for the event to show his support. He said "I'm really glad I could be here today. Our teams have been training very hard, and I've enjoyed being here to support them, plus seeing a lot of old faces from my school and others."
Authentic real inclusion
Throughout the event, pupils were spotted working excellently in their teams, motivating each other, and shaking hands with their opponents – even picking them up off the floor after a connecting tackle.
We never give up
Des Walter, Teaching Assistant at EFS Clacton said "Our team played incredibly well. Although they lost all their matches, they continued to play in the spirit the tournament was intended, despite the temptation to throw in the towel. They showed incredible sportsmanship, and were true champions in my eyes."
Motivational talk
While off the pitch, students were invited to join Korede, an apprentice coach, who shared accounts of his own negative experiences as a young teenager, and how his life was turned around by his role at the foundation.
He told pupils about his gang related experiences, how at 13 years of age he started selling class A drugs, and his first arrest for carrying a knife. Unable to secure a college placement or job, he was taken on by the foundation, and his life has been improving ever since. He advised our pupils that the most important lesson he'd learned was that he needed to change his friends and the community he surrounded himself in.
Mutual respect and tolerance
Fitness Coach Ben Green said "All the pupils have got on really well, and there's been a great sense of community. The sportsmanship has been excellent too, with players from opposing teams helping each other up after tackles, and very few arguments."
Despite some nasty weather creeping over from above, there was a warm and sunny window in which organisers, along with CEO and Schools' Proprietor Thomas Keaney, led an awards ceremony.
Very high expectations
Mr Keaney said "Our staff work extraordinarily hard to support our pupils to settle into life in school and to begin to see themselves as the successful young leaders that they can be – today, that work came to fruition.
"I witnessed teams of pupils representing their schools with real pride and commitment. Just as importantly, they showed brilliant sportsmanship throughout."
The results
The "Players of the Tournament" trophy went to Joe (NWLIS) – upper school, and Jamie (EFS Witham) – lower school. Odene (ELIS) was given the trophy for the "Sportsmanship award", and both upper and lower schools from NWLIS won the "Champion team" trophies.
What our pupils had to say
"I'm the only KS2 girl in the tournament, but my teammates have made me feel confident around them, and I love playing in my school team!" – Kenza
"I enjoy the rush of being in goal, and being the Vice Captain of my team. We practised almost every week!" – Kaden
"We shared the ball well and no-one was greedy with it. I've really enjoyed working with everybody on my team. I'd like to come again!" – Odene
"Our team was really good at passing and communicating with each other. Even better than that, I scored ten goals!" – Joe
"Over the past two weeks we've been training hard. I got new trainers for the tournament, and I'm hoping to get a few good tackles in!" – Matty